Thanks for joining the Handmade Christmas series here on Life in the Motherhood! Don't forget to check out the rest of the posts this week for handmade gift ideas for all the other people in your life! If your idea was featured, please feel free to grab a button from the sidebar! And, if you have any ideas you'd like to submit for any of the Handmade Christmas categories, then fill out the
Submission Form
!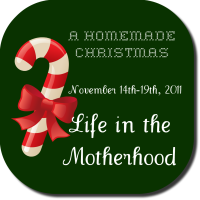 To start off the Handmade Christmas week, we're going to focus on the littlest ones in our lives. Sure, they probably won't notice if they get anything or not. Truth be told, they'd rather play with the bows and paper! But we can't forget them. Here are some fun and easy ideas for the littlest ones.
Do you have a baby girl on your list? How about a cute
Ruffle Bum Onesie
? Originate and Renovate has a great tutorial for sewing ruffles onto a onesies. You could totally do something long-sleeved for the cold winter months. Makes me want a little girl!
How about some
Soft Photo Blocks
? Erin from In Between Laundry shows us how to make this fun and simple project! It's also a great way to use up some scraps from other projects. I also love that she reused the clear vinyl packaging from some baby sheets!
Are you a knitter? I'm definitely not, but if you are, you've got to check out this adorable
Baby Sophisticate set from Never Not Knitting
. Absolutely darling!
I'm really loving the idea of handmade stuffed toys. First the blocks, and now this
Stuffed Giraffe from Craftin' It
. This one is pink, but you could definitely go for something more boyish or neutral.
Again with the stuffed stuff. I'm drooling over this blue and green fabric used to make this super cute
Baby Gift Set - including a bib, stuffed toy, and a crinkle toy - from The Seasoned Homemaker
. I love the soft chenille on the back. So much fun!
How about some cute
Sock Rattles
? Jill from Homemade by Jill has a great tutorial (complete with patterns). Again - change up the colors and you've got something for a baby boy or go for something more neutral.
Want something a little more colorful that is sure to use up all those scraps? Then head over to Homegrown Happy and check out the
Baby's Soft Book of Colors
. So fun to use different patterns (and even textures) to create a book of colors.
How about an easy (unstuffed!) Teething Toy? Patchy Apple shows how to turn some scraps and an unfinished wooden ring into a
Ribbon Ring Teether Toy
your little one will love!
Not into sewing? Is crocheting more your thing? Then how about a
Crocheted Loop Baby Toy from Herbst Handmade
? This project *almost* makes me wish that I could crochet or knit.
What about another book? Check out this
Soft Book Tutorial from Don't Call Me Betsy
. It does look a little more time intensive, but its so fun, and even the littlest ones will enjoy looking at the pictures and feeling all the textures.
Here's one last stuffed toy - a
Sunshine Rattle from Little Pink Monster
. Absolutely darling - and totally easy!
Do you have any other handmade baby gift ideas to share? I'm sure we'd all love to hear your ideas!